Hello fellow N3RDS!
I just wanted to simple take a moment and share about our recent trip to Europe in the past weeks. Our main goals of our trip was to visit our European Distributors, and other Dealers to set them up for success. For those of you that are already fans of the SBU, we want to share about an amazing door opening for our wonderful product to be for resale in Europe.
We've been putting countless hours day and night to make this happen. All the hard work has most certainly paid off. It is exciting to come along side some great people to carry the torch of getting our product more exposure. Most importantly, the opportunity of available inventory stock, in a shorter distance than the United States. Understanding that our product is much more effectively understood when the potential customer has the see/touch/feel experience, versus, viewing on a website, or watching a video.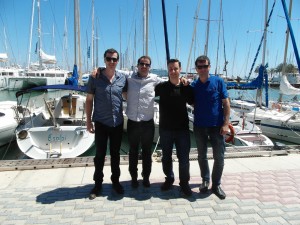 Our plan in the very near future is to modify our "Dealer" page on our website to reflect the numerous locations of SBU availability. As for now, if you are in the Europe area; we now have a Distributor for you. Allow me to introduce you to Nympy. Here is a link to their website at –>www.nympy.com. Our friends at Nympy are doing wonderful already. They have been establishing a comprehensive Dealer network and are looking to expand it much more. Dealers in Germany, and Sweden are already operational.
Below you will see some photos that were taken in the beautiful countries of Spain, Germany, Denmark, and Sweden. To see more, check out our Facebook page –> Focus Designs Inc.
Alan Ecoff
Customer Relations Manager
alan@focusdesigns.com
360-3CYCLES
Follow us on Facebook: Focus Designs Inc – Home of the Self Balancing Unicycle
Follow us on Twitter: Focus Designs
Photos