Friends, nerds, countrymen, lend me your ears.
Here at Focus Designs, we are proud to announce the release of our much-anticipated and improved SBU V2.0.  Aside from a sleeker look, a safer ride, and more power – the new SBU V2.0 is much easier to learn and guaranteed to be an instant crowd-pleaser.
So what's new?
Increased Torque:
A significant improvement comes in the SBU V2.0's newly designed motor. Boasting 1000 Watts of power, hills will be handled with much more ease when compared to V1.0's smaller 350 Watt motor.
More Battery Life:
With a more powerful motor comes a higher-capacity, 5 Amp-Hour 38.4V LifePO4 battery compared to the 4 Amp-Hour 32V LiFePO4 battery on V1.0.
Smoother Turning:
Additional sensors provide a smoother balance response when turning, requiring less effort and increasing comfort. There are now 3 gyro sensors monitoring pitch, roll, and yaw of the SBU V2.0.
More Comfortable Riding Position: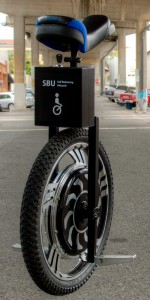 One of the major structural refinements in Version 2.0 is the lowering of the foot pegs. This modification has shown to give novice riders increased stability and greater ease during the learning process. Consequently, the learning time has significantly decreased and most people can ride the SBU V2.0 in just 20 minutes!
New Internal Hub Motor:
The most significant improvement is in our all-new redesigned motor – now more robust with greater visual and functional appeal.  This internal hub motor also conveniently houses all of the electronics, making for a much sleeker look.  The old SBU V1.0 external motor, chain, chain guard and sprocket have all been single-handedly replaced!
No maintenance:
What can be better than this?! The sealed brushless motor never needs to be worked on or adjusted.  Version 1.0 required occasional chain tightening and possible motor brush replacement.
Regenerative Braking:
The more-efficient regenerative braking feature recaptures energy when the rider goes downhill or stops.
Most parts built locally:
The SBU V2.0 moved two more vendors to local companies which mean less money spent overseas and wasted on shipping!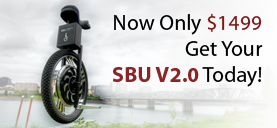 Orders begin today and will ship this November on a first-ordered first-shipped basis.