I was contacted last week by a Discovery Channel production company interested in this self-balancing unicycle they've been hearing about.  They happen to be doing a story on the incredible achievements of Kris Holm and wanted to include what the future of unicycle may be.  If you haven't heard of Kris Holm, then you have to check him out, he's what Tony Hawk is to skateboarding, oh, you haven't heard of Tony Hawk? Tony Hawk is what Michael Jordan is to Basketball…you know Michael Jordan, right? Wow, you need to get out more. Okay, let's move on. So Kris Holm, awesome unicyclist, and turned out to be a really cool guy as well.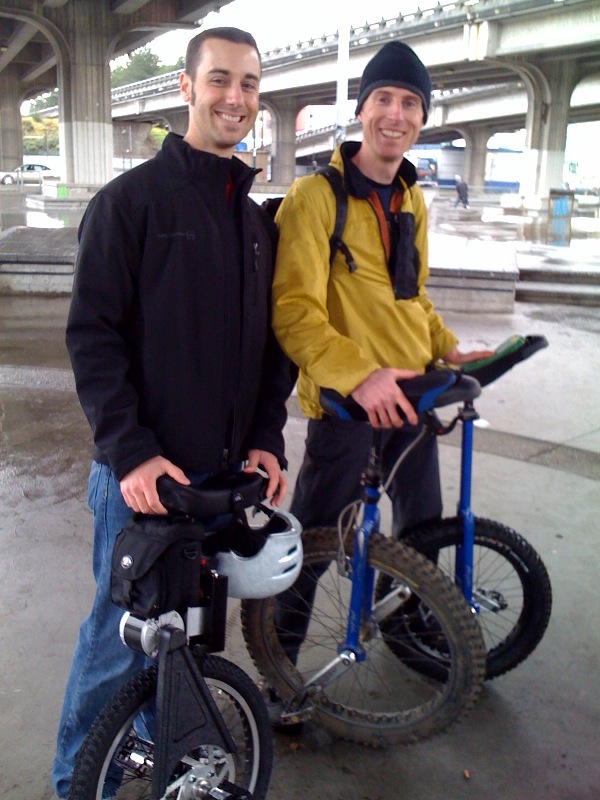 I drove up to Canada and met the film crew at this huge skate park in Vancouver (where everyone said my car was, for sure, going to get broken into) and luckily found a parking spot within view of the park. They filmed me meeting Kris and him learning to ride the SBU for the first time.  It's always interesting when expert unicyclists try the SBU because it requires them to unlearn certain techniques for them to balance. Luckily Kris had great balance and it only took a few minutes for him to be cruising around on the SBU. I think the fact that he experiments with so many different riding styles and conditions allowed him to adapt very quickly to the SBU.  Also, he has no fear and just went for it with everything he had.  He thoroughly enjoyed the SBU and was quickly seeing what tricks and stunts he could achieve with it. I told him to try any trick he could think of, SBUs are extremely tough. He went from riding it at top speed to standing on it, to one-foot standing, then progressed to riding it down concrete stairs and banking it off ramps. Eventually he became very comfortable on it and was zooming around the whole skate park in pretty unconventional riding "stances" freaking out all of the pot-heads that had gathered to watch. At one point I was talking to the director and I looked over to see Kris riding the SBU on his belly.
I also was able to give Kris Holm's unicycles a try, which was awesome because they are by far the best unicycles you can buy. Then he taught me how to freemount his unicycle, thanks Kris! Next Kris and I rode down some sheer granite faces off a 15,520 foot high volcano called…okay, just kidding, only Kris does stuff like that.
Everyone on the production crew was great and they all gave the SBU a try. Look for the segment to air in a new prime time series called "Is It Possible?" on the Discovery Channel in January.