Update as of 2/16/2011: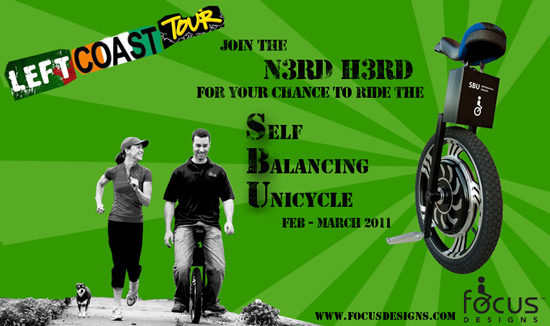 ♫ "From Oakland to Sacktown, The Bay Area and back down, Cali is where they put they mack down, Give me love… California Love!""♫
No, Focus Designs hasn't turned gangsta' (we're a "n3rd h3rd" not a "gang"). We're just planning our SBU Left Coast Tour dates. The SBU was born to be wild, and keeping it cooped up at the Focus Design's HQ just seemed cruel and against everything we stand for. We're doing the right thing and letting the caged bird loose.  You know what they say, "if you love it let it go". We're doing just that, and wer'e letting it "go" to you (for a test drive) – Hence, the SBU Left Coast Tour.
What is the Left Coast Tour?
Our plans include stops throughout Oregon and California to bike shops as well as a few other places to let you guys give the SBU a test spin. Aside from special stops at University of Oregon (go Ducks!), Stanford, Google, and Pixar, here's where we plan to ride (so far) and hopefully meet a lot of you guys:
When?
Feb 21st – Early March 2011
Where?
Feb 21st  – Eugene, OR (University of Oregon)
Feb 22nd – Sacramento, CA
Feb 23rd, 24th – San Francisco, CA (Pixar, Google, Stanford)
Feb 25th – Santa Cruz, CA
Feb 26th – Los Angeles, CA
Feb 27th – Huntington Beach, CA
Are you a SBU user?
Stay in touch (to this page) as we update it with specific bike shops, locations, and times where you can meet us.
Are you a bike shop (or a cool company) interested in hosting us for product demonstrations?
If you are interested in checking out the SBU as something you'd like to sell in your store then shoot an email to: 
sales@focusdesigns.com and we can add your location on our tour.
Media to hang in your bike shop, website, or water cooler.
8.5″ x 11″ Posters